Product Description

Serial Number: 3042490
The STEYR ELITE began a new era of precision rifles. Its ultimate accuracy, modern safety standard, and ergonomics, satisfy even the most demanding rifleman. A variant and effectively the successor of the Scout is the Steyr Elite (previously known as the Steyr Tactical Elite), a more robustly constructed model with many of the same features of the Scout, but designed primarily for the law enforcement market for an urban tactical role.
Differences to the standard Scout include an extended STANAG type mounting rail, an enlarged bolt knob of the SSG type, an adjustable cheek piece, and a height-adjustable buttpad. It is also fitted with a heavy 570 mm (22 in) barrel, and can produce high muzzle velocities due to a "fast" internal profile. The additional features of the Elite give it a weight of over 4.2 kg (9.3 lb), which makes it fall outside the definition of a scout rifle.
Although intended for intermediate ranges, with match grade 7.62 mm (.308 inch) ammunition and 10.0 g (155 grain) projectiles entirely acceptable performance at up to 800m (870 yd) has been recorded making it a good all-rounder. It is standard with a synthetic 5-round magazine, but an external adaptor kit can be attached to fit a 10-round magazine (not available on 5.56 NATO).
Highest Convenience by Individual Adjustment
To provide the shooter an optimal rifle fit, the cheek piece allows height adjustment and the recoil pad length of pull adjustments. This is done quickly and exactly, according to the individual needs.
More Configuration Details
Part of the STEYR ELITE configuration is the three positions SBS-safety system, a standard integrated NATO rail (Picatinny-rail), for scope mounting, and the integrated bipod.
Enhanced Fire Capacity
Another option is the "High-Capacity-kit", which includes an extension adapter, a 10-shot magazine and mounting screws.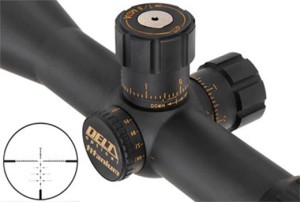 Includes DELTA Optical Titanium 4.5-30 x 50 Illuminated Tactical
Details
| | |
| --- | --- |
| Calibre / Chamber |    308win |
| Barrel |    Cold hammer forged 22.4-inch heavy barrel |
| Receiver |    Extra long Picatinny rail |
| Magazine Capacity |    10 Round |
| Trigger |    Direct Trigger |
| Safety |    2 + 1 Safety System |
| Recoil Pad |    Adjustable recoil pad |
Dimensions
| | |
| --- | --- |
| Overall Length |  1090mm |
| Weight | 4.3kg |